======================================================================

Welcome Back To The Hootenany Power Pages, Folk and Roots Music Playlist, and Coming Events in Baton Rouge and surrounding areas. The Hootenanny Power radio show, since 1981 on WRKF Public Radio Baton Rouge. The live audio stream may be heard via computer, Saturday nights, 9 pm to midnight central time, at www.wrkf.org, or on the airwaves at 89.3

Hootenanny Power Live Streaming Only! Broadcast regulations and licensing make podcasting or archiving rights for music programs murky murky murky. Unless and until these matters are cleared up, Hootenanny Power will be live streaming only, 9 pm to midnight central time, Saturday nights http://www.wrkf.org

=============================================

HENRY GRAY, every Tuesday night 6 - 8 pm

Time Out Lounge (smokefree) on Bennington

====================================================

DON VAPPIE AND MIKE ESNAULT

most Wednesday nights, Sullivan's

=============================================

RED DRAGON LISTENING ROOM:

News from the Red Dragon: contact cmaxwell@premier.net

Red Dragon TheWebsite: www.reddragonlr.com

Reservations cmaxwell@premier.net
Our buddy KINKY FRIEDMAN...This year, Kinky joins us on Sat, July 1 at the Manship. It will be a night of great music.....some of it humorous, most of it politically incorrect.....all of it entertaining. The THREE AMIGOS will open the evening. The Amigos are a trio of incredible local songwriters with a humorous streak in them as well. If you have ever attended shows at the Red Dragon, you have likely heard something by MARTIN FLANAGAN, BARRY HEBERT & STEVE JUDICE. With ingredients like these, it can be nothing less than a helluva night! We are WAY behind in selling seats for this show. Yeah, I know it is a busy month......but I need some help, y'all. Pass the word if you please. www.manshiptheatre.org

Ronny Cox Band......On Fri, July 7 we welcome folkie and actor RONNY COX back to Baton Rouge. Ronny has never played the Dragon, but I do recall a wonderful show years ago at Louie's Cafe'. If you travel in folk circles, you know Ronny's music. If you don't, you may only know his acting roles (Deliverance, Robocop, Beverly Hills Cop, Total Recall, Taps, Murder at 1600, Gray Lady Down, etc). Ronny is bringing his band for our show. Reg seats are $30, VIPs are $40, RALPH GOODSON will open and the direct ticket link is: www.ronnycoxdragon.brownpapertickets.com
On Oct 26 we will be hosting the great RODNEY CROWELL (full band). Our show sold out quickly, but a few folks let their hearts get ahead of their family calendar. I can't really re-open the ticket window, as I fear we would be overbooked in a matter of minutes. We are still full on VIPs, but if you would like regular seats, drop me a note. They are $100 each.....first come, first serve. This may be the last chance to score seats for this show. Please plan on sending a check if you do get seats.


On Nov 8 we host CHRIS HILLMAN/HERB PEDERSEN/JOHN JORGENSEN. We are nearing a sellout on VIP seats ( a fair number of reg seats remain). Reg seats are $100, VIPs are $110. This is a final chance to catch Chris, as he is retiring from the road. That is the reason that instrumental legend JOHN JORGENSEN is joining the tour. This one will be legendary. Rez and payment link is:
hillmanpedersendragon.brownpapertickets.com

Thanks, Y'all....... Chris Maxwell cmaxwell@premier.net ==========================
Dyson House  
Address:
7575 Jefferson Hwy, Baton Rouge, LA 70806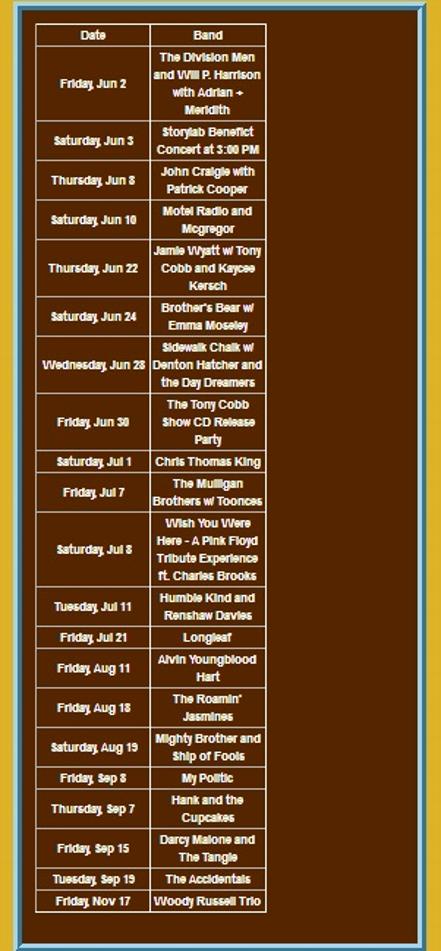 Dyson House asks "Please ask your listeners to like us on Facebook for schedule updates. Dyson House thanks you for supporting Live Music!
Sidewalk Chalk
Jun 28, 2017 7:00 PM
Dyson House Listening Room Baton Rouge, LA
Sidewalk Chalk is a 7-piece band and is the evolution of funk, soul, and jazz. Their third album, Shoulder Season, was released on Ropeadope Records alongside Snarky Puppy, Terrace Martin, Christian Scott, among others. Their upcoming album is co-produced by 6-time Grammy Award-winner Robert "Sput" Searight (Herbie Hancock, Snarky Puppy, Kendrick Lamar, Kirk Franklin).
The Ross Hoppe Band which includes Robert Kling and Katt Lee of Captain Green will open.
Dyson House Listening Room
7575 Jefferson Hwy. Baton Rouge, LA 70809
===================================================================
BLUEGRASS NEWS: Bluegrass & Olde Tyme acoustic string music on the Rivers,Bayous and Roadside Ditches of Louisiana.
.
Jam most Sundays at "GEORGE's Southside" on Highland Road at Staring Lane (Essen) 2:30 - 5:00
.
.
.
=====
Reminder: 4th Sat. Jam at Main Street Market at 11:00 am,
.
Sunday Jam at George's Southside 2:45 pm - 5:00 +
.
BRbluegrass@aol.com
.
https://www.facebook.com/batonrouge.bluegrass
http://brbluegrassassn.wix.com/brbg
.
2017 regular jams
.
Mon "HI HO Lounge" - St. Claude Ave - New Orleans
8- 10
pm
Mon "Cite des Arts Theatre" - downtown Lafayette
7- 9 pm (canc'd on Mar 21)

Tues "Counter Culture" coffe shop - Slidell
5:45 pm
Sun
"GEORGE's Southside" - Baton Rouge (corner Highland/Essen)
2:30 pm - 5 pm (early birds encouraged to patronize the restaurant)

.
1st Sun "Tom's Fiddle & Bow" Arnaudville,
1-4
pm
1st Sun "Hootenancy" at Birdman Cafe, St Fran
5 pm
(pot luck)
2nd & 4th Sat - "Main Street Market" 5th & Main in BR -
11 am
'til 1 pm
DULCIMER GROUPS:
Mon nite - Lagniappe Dulcimer Soc'y -
6 pm
, Comm'y Bible Church, 8354 Jeffersn Hwy - in BR
2nd Sat (only) Cajun Dulcimer Soc'y -
10 am
- Acad'n Cultrl Cntr - in Laf.
www.lagniappedulcimerBR.org
www.oldtimemusic.com
www.msbga.org/events/eventlist
www.bluegrassdog.com
www.HootenannyPower.com
www.abitaopry.org
.
Baton Rouge Bluegrass Ass'n
(Jonathan Harris, Social Chairman /Janitor)
P O Box 4112, Baton Rouge LA 70821 (Louisiana)
BRbluegrass@aol.com
Tel. (225) 387-1600; Text 225.252.2708
Home of BlueGrass on the Bayou
Louisiana Bluegrass & Olde Tyme Music
.
.
HARRIS Law Firm - main financial supporter, preparing estate plans and last will and trust documents for the serious bluegrass fan concerned about his family and estate, and the perpetual care of his banjos, mandolins, violins and Martin guitars. Proceeds go to concerts and jams. HarrisLawFirm@aol.com
Gerard Furniture in BR - generous financial supporter, contributing to bringing in guest performers for Jams. Show support by visiting the store and mentioning "bluegrass."
Baton Rouge Bluegrass Ass'n
(Jonathan Harris, Social Chairman /Janitor)
P O Box 4112, Baton Rouge LA 70821 (Louisiana)
BRbluegrass@aol.com
Tel. (225) 387-1600
=====================================================================
JUST RELEASED CD: THE MID-CITY ACES
http://www.louisianamusicfactory.com/shop/compact-disc/gina-forsyth-mid-city-aces/
==========================================================
Compiled by Richard Gillmann from FOLKDJ-L playlists

Based on 13911 airplays from 140 different DJs

1. Joe Jencks

2. Willie Nelson

3. Harpeth Rising

4. Jimmy Lafave

5. Joel Mabus

6. Pete Seeger

6. Tim O'Brien

8. The Malvinas

9. Bob Dylan

10. Tim Grimm

11. Lindsay Straw

12. Alice Howe

13. The Bucking Mules

14. John McCutcheon

15. The Steel Wheels

16. Rhiannon Giddens

17. Zoe And Cloyd

18. I Draw Slow

19. Merlin Snider

20. Ray Davies

20. Taarka

20. Tom Russell

23. Rachel Baiman

24. Jayme Stone

24. Montgomery Delaney

24. Phil Henry Acoustic Trio

27. The Mastersons

28. Hanneke Cassel

28. Ray Cardwell

30. Taj Mahal And Keb' Mo'

31. Guy Davis And Fabrizio Poggi

31. Tom Paxton

33. Joan Baez

34. Old Crow Medicine Show

34. The Resonant Rogues

36. Fred Gillen Jr

36. John Prine

36. Lesley Kernochan

36. Scott Cook

40. Calan

====================================================================
WXPN Radio posted the stream (and free download) of a new tribute
song tolegendary folk dj Gene Shay performed by 25 Philly based
artists. You can read and hear (and download) the song here:
http://thekey.xpn.org/2015/01/29/gene-shay-tribute-song/#more-150296
======================================================
NASHVILLE/NEW ORLEANS CONNECTION

Les Kerr has a new blog about the musical connection between Nashville and New Orleans. From Louis Armstrong's collaboration with Jimmie Rodgers to Del McCoury playing with the Preservation Hall Jazz Band, the connection continues at:

http://leskerr.wordpress.com/2013/07/12/the-nashville-new-orleans-musical-connection/

======================================================

"Though it's impossible to pinpoint a particular moment when immigrants began inventing American music, a dramatic turning point surely occurred in 1804, the year a young nation made the Louisiana Purchase. President Thomas Jefferson sought to buy from the French just the city of New Orleans, because of its crucial value as a port. But a cash-strapped Napoleon sold the entire, still-uncharted Louisiana Territory for $15 million — roughly 4 cents an acre. In a single stroke, America became a thrilling, noisy eruption of sound."

http://www.chicagotribune.com/entertainment/music/ct-ae-0714-immigrant-music-20130713,0,6735268.column